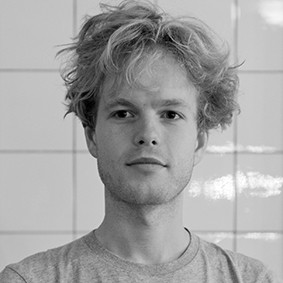 I work with performance makers from initial discussion through to realisation and develop visual concepts through research, drawing, models and rehearsal mockups.
Boldness, lightness, expectation and surprise are important elements in my work and I enjoy working close to rehearsals in order to bring out designs that are integral to the piece, living and iconic.
I have independently of K A S P E R S O P H I E designed dance, theatre and circus and taught design and its relation to choreography at London Contemporary Dance School and The Danish National School of Performing Arts.
Alongside my practice I have worked as associate and assistant with some of the most esteemed UK designers today; Richard Hudson, Leslie Travers and Es Devlin on productions at among others La Scala, Bregenz, The Met, Royal Danish Ballet, The Bolshoi and Teatro Massimo.
2015

---
SAM COREN & RAVNEDANS | No Way But Down | set and costume design and performer
TEATER GROB | Det Kolde Bord | set design
ATS & COPENHAGEN STAGE | Den Sorte Kat | set and costume design
BREGENZ | Carmen | assistant to Es Devlin
OPERA NORTH | Pleasure | assistant to Leslie Travers
2014
---
ABT AT THE METROPOLITAN OPERA & LA SCALA | Sleeping Beauty | assistant to Richard Hudson

SANTA FEE OPERA | Salome | assistant to Leslie Travers
NATIONAL THEATRE | Great Britain | assistant to Tim Hatley
2013
---
LONDON YOUTH CIRCUS | All You Can Leave Behind | set and costume design | Circus Space
IMMIGRANTS AND ANIMALS | The Birthday Party | set and costume design | Chisenhale Dance Space
TRAGER DELANEY & JOSEPH | Collection Spring/Summer 13 | window display design | Joseph
GRANGE PARK | La Traviata | assistant to Richard Hudson
VEREINIGTE BUHNEN | The Visit | assistant to Peter Davison
TEATRO MASSIMO | The Ring Cycle | assistant to Richard Hudson
2012
---
THE ROYAL DANISH BALLET | La Bayadere | assistant to Richard Hudson
THE ARTS THEATRE | King Lear | set and costume design
THE ROYAL DANISH BALLET | The Golden Cockerel | associate to Richard Hudson
IMMIGRANTS AND ANIMALS | Jack | set design | The Yard Theatre
2011
---
EAST15 ACTING SCHOOL | Doctor Ox | set and costume design
SHUNT | A Voiceless Echo | design and performer
OPERA DI ROMA | The Abduction of the Seraglio | assistant to Richard Hudson
NATIONAL BALLET OF CANADA | Romeo and Juliet | assistant to Richard Hudson
2010
---
NEW DIORAMA THEATRE & ACTING LIKE MAD | Spare | set and costume design
NATIONAL REVIEW OF LIVE ART | Not Waving but Drowning | assisting artist to Geraldine Pilgrim
2009
---
ENCHANTED PARKS | Boats on the Lawn | installation artist
EDUCATION
---
BA, Design for Performance | Wimbledon College of Arts | 2006-2009